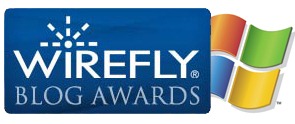 Wirefly is now accepting nominations for the first annual Wirefly Blog Awards! To nominate your favourite blog in each category, just post the name or URL of the blog in the comment section of the category page. Finalists will be selected by Wirefly staff from the list of nominations. Blogs with the most nominations will be given extra weight.
The nomination period ends April 15, 2010 and on April 16, 2010, the finalists will be announced and user voting will be opened on the category page to determine the winners.
Winners will be announced on May 1, 2010 and receive $250 in prizes and promotion across Wirefly.com and other Wirefly web properties.
To nominate your favourite Windows Mobile blog, just submit the blog name or URL in Wirefly's comment section here.
Hint: WMPoweruser.com is no longer an Android blog 😉