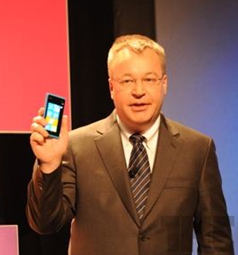 Stephen Elop faced a barrage of challenges from share holders at Nokia's Annual Share Holder meeting today.
One share holder asked why Samsung is achieving ten times better results than Nokia, and another concluded a round of tough questions by saying that right now Nokia is not displaying "the spirit and charisma" Apple has.
Some shareholders second guessed the decision by Mr. Elop to stick by the Windows operating system even as Google Inc.'s Android software amasses a dominant position.
"You're a nice guy… and the leadership team is doing its best, but clearly, it's not enough," one investor told Elop at the AGM.
"Are you aware that results are what matter? The road to hell is paved with good intentions. Please switch to another road."
In return Stephen Elop re-iterated his commitment to Windows Phone, and, noting Apple's 40% drop in share price in less than a year and stale product line, asked if Apple was still"cool".
"We've made a very clear decision to focus on Windows Phone with our Lumia product line," he said, "and it is with that we will compete with competitors like Samsung and Android."
Stephen Elop admitted that Samsung can outspend Nokia in marketing and said that meant Nokia had to be smarter. But, he said Samsung's dominance of the Android ecosystem "creates tension in that ecosystem and potential for a turbulent future."
He noted successes, such as a quarter over quarter increase in sales in China, deep restructuring that was now saving the company money, getting Nokia Siemens Network stand-alone profitable and said Nokia would target market share gains in USA with a stream of new Lumia products to attract more advertising dollars from network operators.
Nokia Chairman Risto Siilasmaa said the company's ambition is to be "a profitable growth company again."
Do our readers think Stephen Elop and the whole Lumia product may both be in danger? Let us know below.
Via Foxbusiness.com