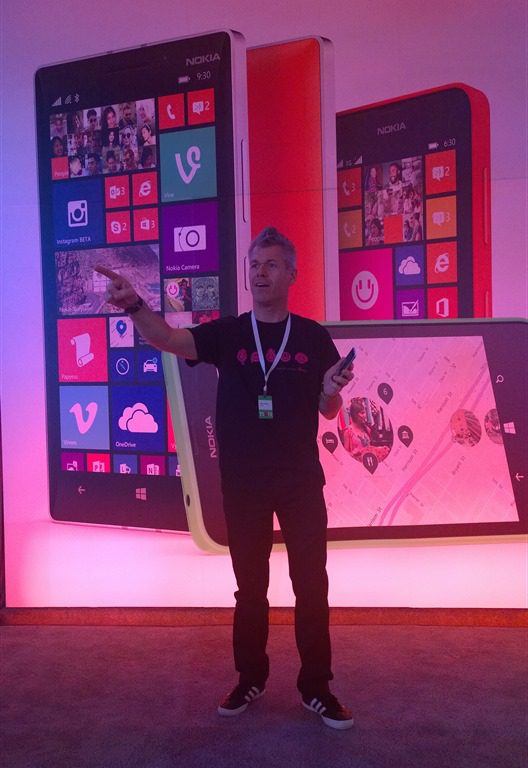 After BUILD Nokia is also holding its own separate, invitation-only MoreLumia event in San Francisco, and are unfortunately not live streaming the event.
There is however no indication that they will be revealing anything not shown at BUILD today, but we will update this post if anything interesting pops up.
The event has started with a presentation by the Nokia Mix Radio team.
Stephen Elop has taken the stage, and is speaking about Windows Phone 8.1, Cortana, and their two new Windows Phone 8.1 handsets.
The Nokia Lumia 635 with LTE will be $189, and the single SIM 630 will only be $159.
The Lumia 930 will of course be a more steep $599 off contract.
He also introduced a new speaker, the MD-12.
The MD-11 was a battery powered portable mini-speaker, and we assume the MD-12 is a wireless upgrade of the same device. It has a built-in Microphone and will presumably also work as a Bluetooth speakerphone.
Stephen Elop also spoke about camera technology, and hinted there was more to come – hopefully this will be a successor the the Nokia Lumia 1020.
He revealed there were 245,000 apps in the Windows Phone Store, with around 500 being added per day.
Stephen Elop declined to comment on whether the Nokia Lumia 930 will be coming to USA ever.
He said Nokia was eager to scale Windows phone, and expected the enterprise features in Windows Phone 8.1 to drive further adoption.
And the event is over.