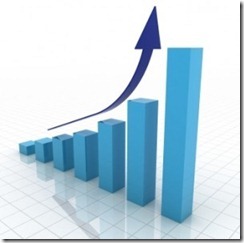 Nokia reported their Q1 2013 results, which were very  much, for their smartphone business at least, in line with expectations, with 5.6 million Lumia handsets being shipped, most of these WP8 devices.
Given that Nokia has around 80% of the Windows Phone market, this suggests around 6.5 to 7 million Windows Phones were shipped in Q1 2013, a more than 150% increase over the 2.7 million Windows Phones sold in Q1 2012.
Unfortunately with a rough estimated 210 million smartphones sold in Q1 2013 this still leaves Windows Phone with around 3% of the market, but this would be 1% up from 1.9% in  Q1 2012.
Nokia's 5.6 million Lumia handsets shipped is 27% up from the 4.4 million in Q4 2012, an unusual increase coming off the holiday season.  Windows Phone shipments increased in all regions except USA, likely due to USA not being the target market for the Nokia Lumia 620 low-end Windows Phone 8 handset.
Q2 2012 sales will largely depend on the sales of the Nokia Lumia 520, 620, 720 and the new Nokia Lumia 928 heading to Verizon soon.
Stephen Elop has said they expect sales to increase once again in Q2 2013, by an even larger percentage, virtually guaranteeing that Q2 2013 shipments will exceed 7 million units from Nokia alone.
Unfortunately with few products launching from other OEMs total Q2 2013 Windows Phone shipments may only hit in the 8 million range, depending largely on how much Nokia exceeds that 27% target.
Discounting handsets over 2 years old, we should soon have an installed base of more than 30 million Windows Phone handsets, with the vast majority being sold by Nokia. Given that Nokia is currently being dragged down by their feature phone market, which is rapidly shrinking, do our readers think it is time for Microsoft  to simply buy Nokia's smartphone division? Let us know below.