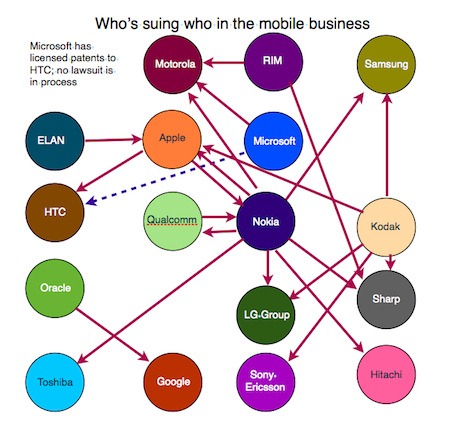 After a long period of Mutually Assured Destruction and stand-off, the patent war between the various smartphone players finally went hot last year.
As can be seen in the above graphic (via techdirt) Nokia and Apple is in the centre of much of the action, with Microsoft mostly offering a patent haven to their Windows Phone 7 licensees (although things recently did become a bit hostile between them and Motorola)
With the newly announced deep partnership between Microsoft and Nokia, things may have changed quite a bit.
Nokia is said to have more than 10,000 patents and ZDNET Asia notes that the issue of patent sharing between the two giants were alluded to when in an  open letter from Elop and Microsoft CEO Steve Ballmer on Feb. 11  they said: "We each bring incredible assets to the table. Nokia's history of innovation in the hardware space, global hardware scale, strong history of intellectual property creation and navigation assets are second to none."
Nokia is currently engaged in litigation with Apple, but patent activist Florian Meuller suggests that this may change now they are partnering with Microsoft, due to an earlier patent cross licensing agreement between Apple and Microsoft.  Also with Nokia moving away from Symbian, Apple's user interface patents become redundant. Either way Nokia's new and clearly defined target is Android, a target shared by both Apple and Microsoft. 
Google's patent portfolio is however weak and poorly protected, and we could see a massive team up between Nokia, Apple and Microsoft against Android OEMs.
Even if no formal agreement exists between the parties, an OEM like Motorola or Samsung may suddenly find itself under attack from Apple, Nokia and Microsoft, with interestingly the only safe haven being to run Windows Phone 7.
Read more about this novel Ménage à trois at ZDNet Asia here.