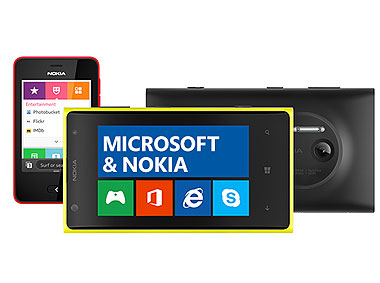 In a press release Nokia has announced that when they report their financial results next week they will be listing their handset division as a "discontinued operation", suggesting that their deal with Microsoft will be closing next week.
Nokia writes:
After receiving shareholder approval of the pending sale of substantially all of its Devices & Services business at our Extraordinary General Meeting in November last year, Nokia is reporting substantially all of its Devices & Services business as discontinued operations in its fourth quarter 2013 and full year 2013 results report.

Nokia currently has three continuing businesses: Nokia Solutions & Networks (NSN), HERE and Advanced Technologies. Reflecting this composition, Nokia will publish financial information for all three businesses in next week's report. Specifically, Nokia will report financial information for a total of four reportable segments – Mobile Broadband and Global Services within NSN, HERE, and Advanced Technologies – and, additionally, separate information for Discontinued Operations.
The deal has already received regulatory approval in USA, Europe and India, and will see Microsoft take over all of Nokia's handset division, including their 60 million per quarter feature phone business, their ASHA smarter phone and Lumia smartphone business, and in addition acquire 32 thousand new employees based all over the world.
In addition Nokia will be licensing its name for use with Nokia's feature phone and ASHA business, but oddly not for its Lumia handsets.
Via Neowin.net