As soon as I saw Nokia's Treasure Tag for sale I hopped on Amazon and picked one up.
It arrived a few days later and was of course excitedly unboxed.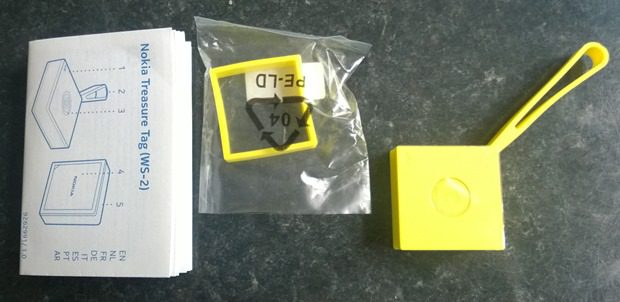 The tag is smaller than it looks, and is covered in a soft silicone border case, with and without a loop. It comes with the battery pre-installed, so after switching it on (holding the only button for 3 seconds) the device is ready to pair.
Unfortunately that is where things fall apart.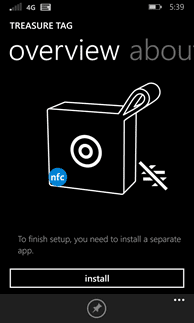 Pairing is via NFC, but unfortunately does not work on the Windows Phone 8.1 Developer Preview, which we suspect lacks the Bluetooth Low Energy drivers necessary (coming with the firmware update later). Also Nokia's Accessories app tries to download the Nokia Treasure tag app even though it was already installed.
Also the device does not pair with iPhone 5S either, which is somewhat surprising, given that that device of course supports Bluetooth 4.0 LE out of the box.
I am sure in a few months the Treasure Tag will become more useful, but of course Nokia has just announced the cheaper, smaller and even better Treasure Tag Mini, which also explicitly works with other platforms such as iOS and Android.
Update:  I have now managed to try out the device on my Nokia Lumia 925 running GDR3.
With that device pairing was simple and hassle-free via NFC, with the app installing appropriately.  A restart is required after the installation.
The app lets you set whether and how you want alerts to appear.  The alerts via the tag are very shrill and high pitched, and of rather short duration, and I think could easily be missed in a noisy environment.
Another issue is that the range and delay before the alert rings is rather large, exceeding 20 metres.
The phone then offers to show you a map of where the phone was when it was last seen, which includes a LiveSight mode.
Strangely LiveSight is no longer offered when the phone is in range, meaning you can not use augmented reality to lead you to your device.  You can however make the sensor ring, meaning you need to be led back to the sensor by sound. Again, given the large range the sensor works over this may be an issue.
As it is, the Treasure Tag is a neat gadget, but its usefulness in real life still needs to be proven. Of course given that the tag is designed to help you find something precious you lost, if it does work well it will offer a big pay-off.
The Treasure Tag can be found at Amazon UK here for £23.99 ($40).