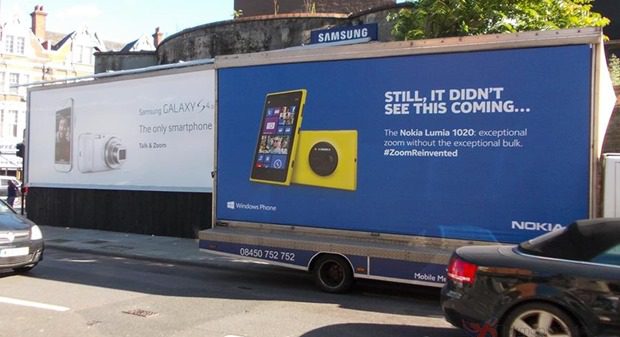 UKMobileReview reports that Nokia has launched a guerrilla marketing campaign against Samsung and the ridiculous Samsung Galaxy S4 Zoom.
Nokia has been parking trucks bearing signs noting that while the Samsung Galaxy S4 was the only phone with a 10x zoom lens, it still did not see the Nokia Lumia 1020 coming, which offers:
"Exceptional zoom without the exceptional bulk"
We think its good on Nokia for calling out the Zoom for the bizarre device it is, and hopefully the message will resonate with passers-by and stick with them when they go to stores also.
See more pictures at UKMobileReview here.
Thanks Tom and James for the tip.