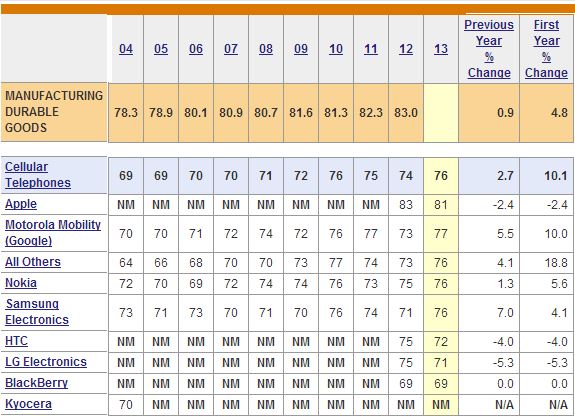 Nokia has gained a point in the recently released in American Customer Satisfaction Index report. Nokia always struggled to make both market and brand presence in US when compared to other countries. With recent release of Windows Phone devices, Nokia is now focusing on US market more than event. The reported American Customer Satisfaction Index shows the work in progress as Nokia gained 1 point to 76 up form 75 in last year's report.
It is of note that Nokia's Windows Phones are outscoring HTC's Android handsets and matching Samsung's and of course is far ahead of Blackberry.
Meanwhile, Microsoft lost one point to score 74 down from 75 last year. ACSI commented the following on Microsoft's decline in score.
With global PC shipments having their largest quarterly drop in 20 years, the market remains thorny. Windows 8, criticized by users for its interface, has not derailed customer satisfaction for Microsoft, but it has not helped either.
via: ZDNET