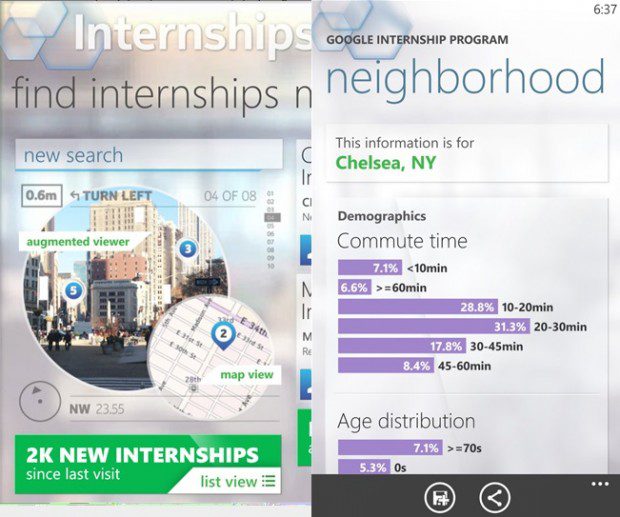 Building on the success of the JobLens app that allows people to find jobs through Augmented reality app, Nokia today released Internships Lens app that will help students find internships. Using this free Internships Lens app, college students and recent graduates can check out and apply for more than 75,000 internships, entry-level and part-time jobs from more than 40,000 companies that list opportunities with Internships.com directly from their Nokia Lumia phone.
Internships Lens helps you see internships all around you through augmented reality, and land those internships through some of the biggest, most respected brands in career services. Powered by Internships.com, Linkedin, Here Maps, Twitter, Facebook, Windows Live, Salary.com, Zillow and other best-in-class content partners, the app enables you to discover and apply for thousands of internships nearby and through your social networks.

Internships Lens helps you every step of the way.
– Find internships that are right for you
– Identify people in your social network who can connect you to the hiring manager
– Create and store your resume/CV
– Apply to the job
– Get directions to the interview
– Get up-to-date news and information about employers you like
– Learn about internships location demographics and employment trends in your field
– Save internships you like and track your progress
Download it here from Windows Phone Store for free. Find a video about it after the break.