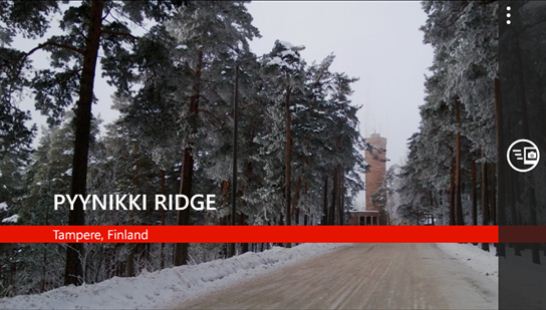 Nokia released the Place Tag beta app for Lumia Windows Phone devices back in March after they demoed this app back at MWC during th
eir press event. When you are taking photos with the Place Tag lens, your Lumia will capture the image and also record the Points of Interest (POIs) that are visible in the viewfinder along with the name and address.

This app just got updated to v1.1 with better UI to create post cards with your place tag photos. There were many complaints in the past that the app doesn't show the feature to create post cards from the photos, I guess the issue is fixed now with this update. My initial experience with this update was not so great, because the app crashed couple of times when trying to select an existing normal photo. Let us know your experience.
New release

When you open the new version you will notice that you are presented with two grid views.

Place Tag view

Here you will see photos that were taken with the places lens. These photos will have stored location and direction data as well as points of interest seen at the time of capture. Opening this photos will show directly the correct direction and points of interest. If no points of interest were found you will still be able to make a postcard with the street address of the location or write your own text into the templates.

All photos view

In this view you will see all pictures in the phones camera roll.

If you open a picture without GPS data you will still be able to create a postcard by typing your own text in the templates.

If you open a picture that has GPS data the points of interest will be downloaded from the server for the full 360 degrees around the GPS point. The direction of the photo is not known, therefore you can then use the slider at the botton of the photo to adjust the direction as needed. When you are ready you can select ' lock view direction' from the menu if you want to save the direction and points of interest to the photo.

You can create a postcard of the point of interest by tapping the place name in the photo or if you press send directly you can create a postcard from the street address or by tyoing your own information in the template
The app can be found in the Windows Phone Store here.
via: Winphonino