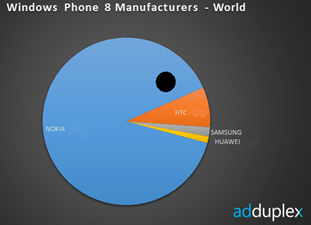 In the early days of Nokia's arrival on Windows Phone we heard many complaints when software was released exclusively for their handsets.
These days there is much less of an outcry, and according to AdDuplex data the reason is simple – at 90% nearly every Windows Phone in active use is a Nokia Lumia.
This is up from 89% last month, so not unsurprising.  A year ago Nokia had 76% of the Windows Phone market, showing the company dominated the Windows Phone market nearly from the start, and has only been consolidating its position over the last few months.
Windows Phone 8 handsets are now 75% of the Windows Phone market, up from 70% last month, indicating that Windows Phone is still going through a growth burst at the moment, as the new WP8 segment rapidly grows vs the static and shrining WP7 segment.
Lastly AdDuplex reports the Nokia Lumia 1520 has started making an appearance on their charts, albeit in the 19th position, but funnily enough still ahead of the Huawei Ascend W2 and Samsung ATIV S Neo.
Given that Nokia's handset division has been purchased by Microsoft, do our readers still see any point in keeping Windows phone a multi-vendor OS? Let us know below.