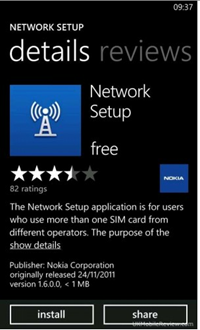 All the way back in June a Nokia Support rep promised that the Nokia Network Setup Utility would become available in the 24th week of 2012 ie June 11th-17th.
That date has obviously come and gone, leaving Nokia Lumia owners who have bought unlocked devices or changed networks unable to change their settings for complex network settings like MMS or Internet Sharing.
The app is available nearly everywhere else in the world, and Micheals, a Nokia Community Manager on their support forums, offered this explanation:
The app is now available again in all countries except USA, Canada, Columbia, India and Iceland.  Also, not for the following operators: Boost (Australia), Siminn (Iceland), Talkmobile (UK), Virgin (UK).

We have received the following clarification from our North American colleagues concerning the reason that it cannot work at present:

Lumia 900 models sold in the US by AT&T are automatically provisioned by the AT&T contract SIM card to use the 'PTA' access point.
This PTA access point is used by the qualcomm modem sw to attach to the LTE network, and is defined in the EFS file system on the modem side. Windows Phone OS does not come into play here. Attaching to the LTE network happens at bootup. Network Setup cannot manipulate this modem-side access point definition at the moment.
This does of course do nothing to solve the problems of users who are not using Nokia Lumia 900s, and one gets the distinct feeling that Nokia has gone so far in kowtowing to carriers that they are actively not supporting unlocked phones or changing SIMs.
As it is it is not clear of the app is on its way or not, which is disappointing when other Windows Phone OEMs have no issue exposing this functionality on their US phones.
Thanks Bob for the tip.