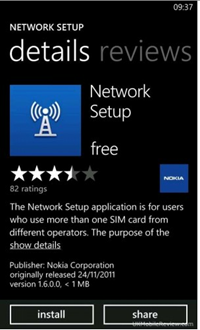 The Nokia Network Setup app, essential if you are using an imported Nokia Lumia 800 in USA for example, has been absent from the US marketplace for some months now, with repeated promises than it will be coming back soon.
It seems Nokia has now however finally delivered, and the app has returned to the US marketplace.
The app helps users add GPRS, MMS and voicemail configuration to Nokia Lumia phones, and its absence has been causing  significant problems for users trying to use imported Lumias or trying to use a Lumia 710 on AT&T or 900 on T-Mobile.
The app can be found in Nokia Catalogue in Marketplace or by following this link.
Via WPCentral.com