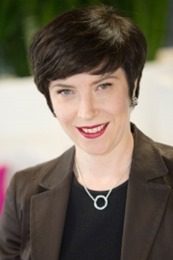 Nokia's ad agency JWT is embracing the roll of the underdog and is refocusing their marketing strategy, said Nokia CMO Tuula Rytilä (right).
"For years we were the leader in our industry," she said. "When a leader is [at the top] for a long time, naturally they have more to lose and become more defensive. Now we actually get to act like a challenger. It's quite natural, and we're having a lot of fun with it. We want to be more bold in our approach, and [we want] a global brand as well."
The marketing will include a global component and will include comparison with leading handsets.
The aim is "to reignite the Nokia brand, bringing meaning, relevancy and emotion to the brand," she added. "Whatever messages we create need to resonate in the U.S., Europe, and emerging markets like China and India. It's very important for us to be globally relevant."
"We want to [elicit] more emotion and be more daring. We're hoping that with JWT we'll actually drive more disruption," she continued.
She notes the company will more away from building awareness, the company's initial focus, and more on demonstrating the capabilities of its products in the retail environment.
With marketing budgets in excess of $1 billion worldwide Nokia intends to fund the initiative in part by tapping Microsoft, saying "We're working closely with Microsoft and our customers to make sure we have bigger budgets available. We want to invest what it takes to win. There's a lot of noise in the marketplace and we need to make sure our message gets across."
Do our readers think Nokia's marketing has been successful so far in raising awareness of the unique selling points of their Windows Phones? Let us know below.
via Adage.com