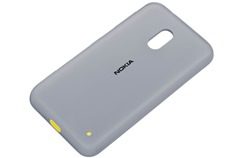 News of a new rugged shell for the Nokia Lumia 620 was leaked last week, and Nokia has today made the accessory official on their Conversations blog.
The  Nokia Lumia 620 protective shell (CC-3061) replaces the existing back cover and upgrades the device to P54 certification, meaning it is now  certified to improve protection against dust and splashes of water.
Harri Vuolle, Lumia Product Manager at Nokia explains:
"The protective shell improves the dust and splash protection. The gaps between the camera window and the shell as well as the display and the shell are better sealed, and the mesh that covers the loudspeaker is denser, making it harder for water or dust to get in."
The protective shell has been cast using a dual-shot process. The interior shell is created using a polycarbonate that's fairly rigid, and the exterior is made of TPSiV, which is more flexible, rubber-like material to increase impact protection. The soft, rubber-like exterior also increases grip.
The shell wraps around the front slightly, creating a  raised 'lip' that  protects the screen more if phone is accidentally dropped.
"While the protective shell does not make your Lumia 620indestructible or 100% waterproof, it's ideal for people who enjoy active lifestyle where working up a sweat, getting caught up in a rain or dropping the phone can be a regular occurrence. It's also suits people who want to use their smartphone at work, even if it's a dusty, damp environment." Harri explains.
The shell will available in grey with grey exterior and yellow interior, and should hit the market at the end of the month for about 25 Euro.