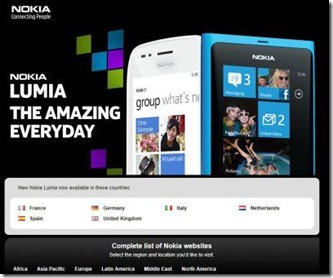 Nokia has started to promote its first set of Windows Phone devices, Nokia Lumia 800 and Nokia Lumia 710. When you visit Nokia.com, you can see Nokia Lumia taking over the whole page with links to other local Nokia websites where Nokia Lumia will be available next month. Even the country specific websites such as Nokia UK, France,etc has home pages promoting Nokia Lumia extensively.
Hope such marketing drives more market adoption for Nokia Windows Phone devices.
Visit Nokia.com to see the above in action.