Elisa Consumer
Elisa Business
DNA

Best selling phones to retail customers in July 2012:
1. Samsung Galaxy S III
2. Apple iPhone 4S
3. Nokia Lumia 610
4. Samsung Galaxy S II
5. Nokia Lumia 800
6. Nokia C2-01
7. Samsung Galaxy GIO
8. Nokia Lumia 900
9. Nokia Lumia 710
10. Nokia 500
11. The Nokia 300
12. Nokia C5-00 5MP
13. Samsung Galaxy Note
14. The Nokia 303
15. Nokia N9-00

Best selling phones for business in July 2012:
1. Nokia C2-01
2. Apple iPhone 4S
3. Nokia Lumia 800
4. Nokia Lumia 710
5. Nokia Lumia 900
6. The Nokia E7-00
7. Samsung Galaxy S III
8. Nokia C5-00 5MP
9. Samsung Xcover 271
10. Nokia Lumia 610
11. The Nokia 701
12. Samsung Galaxy Xcover
13. Nokia E5-00
14. Samsung Galaxy S II
15. Nokia C6-00

DNA combined best selling phones in July 2012

1. Samsung Galaxy S III, and the iPhone 4S (1st place)
3. Samsung Galaxy Xcover
4. Samsung E1080 *
5. Nokia Lumia 610
6. Samsung Galaxy Y
7. Samsung Galaxy S II
8. Nokia C2-01 *
9. Nokia Lumia 800
10. Samsung S5610
Finnish carriers Elisa and DNA have released their usual monthly list of best selling phones and it shows the assault of the Samsung Galaxy S III has hit even Finland, with the handset hitting the top spot on both Elisa, the country's biggest carrier, and also DNA.  In addition the iPhone 4S has had an unusual resurgence, given how close we are to the announcement of a replacement.
Despite this however the Nokia Lumia range have 4 out of 10 phones in the top 10 in both consumer and business on Elisa, and 2 out of 10 on DNA, who has been pushing the phone less.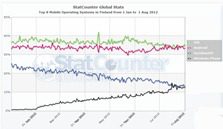 In fact in  Business the Lumia range have been doing particularly well, with Elisa's Anssi Okkonen noting that their cloud-based Office 365 buyers,  of which they have 2000 business clients and 20,0000 users, have been increasingly buying the service in conjunction with the Lumia range.
Windows Phone in fact had a particular strong July according to statcounter, growing from 9 to 12% of the installed base and being close to overtaking Symbian's presence in the country.
It will be interesting to see if the OS can maintain the momentum in the coming months with the impending release of Windows Phone 8, but the Lumia 610 seems to be well-placed price-wise to give it a try.
Thanks Arun for the tip.