The IDC has released some market share figures for India from Q3 2013.
The country's small smartphone market grew by 229% Year on Year with a total of 12.8 million smartphones shipped.
The number also represents a 28% increase compared to Q2 2013.
Nokia has managed to maintain its share of the smartphone market from Q2 2013, when it also held 5%, or around 640,000 handsets sold, meaning its volume of sales has increased by the same proportion.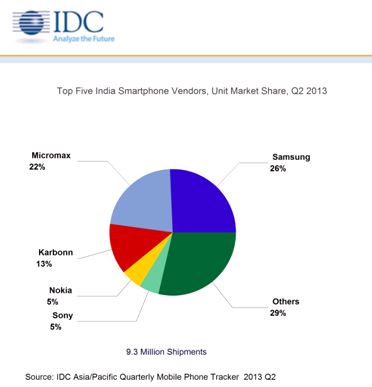 Despite the lack of growth the Indian market has shown some sign of evolution, with large international brands becoming more dominant, taking 30% of the smartphone market vs cheap local vendors such as Micromax and Karbonn.
"The growth in the smartphone market continues to drive the overall growth numbers for the phone market – given that there's still a huge potential for smartphone penetration in India, this trend is expected to continue in the coming quarters", said Manasi Yadav, Senior Market Analyst with IDC India.
On Nokia (and by extension Windows Phone) the IDC said:
The Lumia range of devices continued to show a growth trajectory in 3Q2013 and garnered close to 5% market share – the trend is expected to continue with greater support from Microsoft in the coming quarters. The third quarter of 2013 saw a few notable launches like the Lumia 625 and Lumia 925 which have 
been able to generate positive interest from consumers and developers alike.
Read the full reports here.
Via NPU