GSMArena have posted the result of their comprehensive battery test of the Nokia Lumia Icon.
The handset has a 2420 mAh battery, but according to GSMArena performed rather poorly, managing only 14h:15 min of 3G talk time and 5h:17 of web browsing.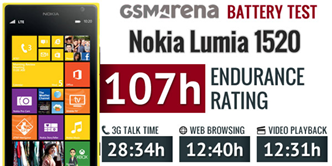 This compares to the Nokia Lumia 1520's outstanding performance from its 3400 mAh battery, which is only 50% bigger.
That handset achieved double the talk time at 28h:34 and more than double the web browsing time at 12h40.
GSMArena notes the results do not make a lot of sense and note:
"It's pretty obvious that it's not the best the smartphone can manage. Nokia should act quickly to identify that issue that causes the battery drain and fix it as soon as possible".
Have our lucky Nokia Lumia Icon-using readers been disappointed by the battery life of the handset, or does GSMArena have a dud device? Let us know below.
Via NPU