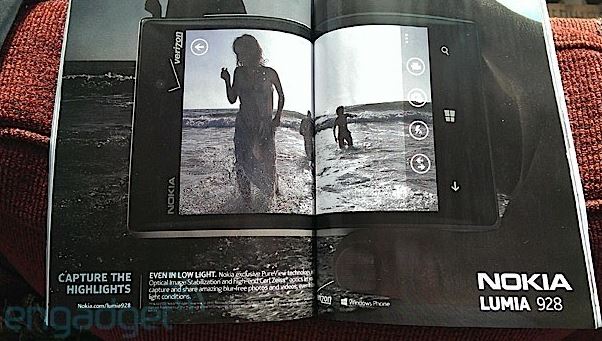 We already reported about a Nokia Lumia 928 Bill board spotted in US last week. Today, Vanity Fair magazine in US carried an ad for Nokia Lumia 928 device that is coming to Verizon network soon. The ad was focused on the camera capabilities of the device citing PureView, Optical Image Stabilization and Carl Zeiss Optics which lets you take better photos and videos even in low light conditions.
This is the second major advertising leak for the much leaked handset, with a recent billboard spotted in Oakland also showing off the device.
The Nokia Lumia 928 is expected to have the same innards as the Nokia Lumia 920, but with an AMOLED screen, thinner profile, Xenon flash and larger speaker, and probably running the GDR2 version of Windows Phone, which brings additional features such as double tap to wake, a standby clock, a fix for the "other storage" issue, FM Radio support and other minor features.
I guess we are just few days away from the launch of this device? What do you think?
Source: Engadget