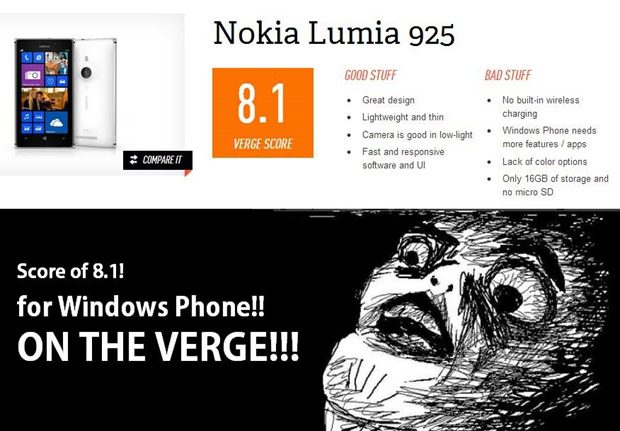 The Verge have posted their full review of the new Nokia Lumia 925.  In a review that is filled as much with complaints as plaudits, Tom Warren notes the sleek design solves much of the issues of the Nokia Lumia 920, but that there is more concerns about build quality, with some flexing of the case in the back.
He also complained of the lack of colour choices, and noted 1080P video can quickly fill up the device. At the same time the device was fast and battery life was more than acceptable. They did not find the camera particularly improved over the Nokia Lumia 920, noting it was only slightly sharper.
As usual the Verge complained about the apps, ecosystem and the pace of Windows Phone improvement, but noted that there are signs of increased adoption by the developer community.
They concluded:
Nokia has mostly nailed the design with the Lumia 925, but Windows Phone is holding it back. Microsoft's mobile platform hasn't progressed a lot since its introduction in November, with basic features like a rotation lock and reliable notifications still missing. Nokia is trying to fill the gaps with software and services, but ultimately it's a very similar Windows Phone experience to any other device from Samsung or HTC. My main complaint about Windows Phone is this slow rate of progress. The Lumia 925 is the best Windows Phone you can buy right now, but compared to an iPhone 5 or Galaxy S4 it's still lagging behind on the software front. I came to a similar conclusion with my Lumia 720 review just two months ago, Microsoft's mobile platform is still the big drawback to Nokia's Lumia devices.

Until the software catches up, the Lumia 925 is a great piece of hardware that's perfectly suited to a consumer who doesn't demand the latest and greatest hardware or applications. If you want to take great nighttime shots then it won't disappoint, and it's especially effective at capturing distortion-free audio at concerts. Nokia is leading the pack in Windows Phones, and understandably so. The company has bet its future on Microsoft's mobile platform. If you've also bought into the Microsoft ecosystem then the Lumia 925 is a perfect match. There's great cloud integration with SkyDrive, Skype, and Xbox-related services, and even a mobile version of Office. Nokia has provided the best shell and design for Windows Phone to shine on, and if you're happy with the tradeoffs then you won't be disappointed by this particular handset.
The device scored 8.1, a higher score than the Samsung Galaxy S4, which scored 8.0.
Read the full review here.
Thanks JamesSB for the tip.