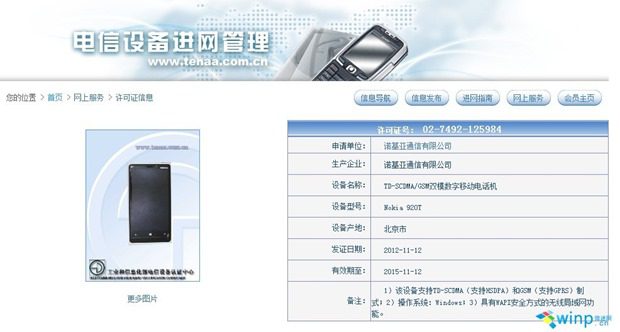 WinP.cn reports that the Chinese version of the Nokia Lumia 920, the 920T, has gained Ministry of Industry and Information Technology Telecom Equipment Certification for release on the China Mobile network on the 12th November, in time for sales to start on December 5th.
The handset supports China's home-grown TD-SCDMA standard and also standard GSM GPRS.
The smartphone will be launched next week on November 22nd , and will be available in Cyan, Yellow, Black and White. It is rumoured to cost around 4,200 Yuan ($673)
The handset should hit Hong Kong streets slightly earlier, on November 28th, with the Nokia Lumia 820, where red and grey will also be available.
The device will only be launched on December 6th in Taiwan, and become available on shelves December 14th. The price there is also not known.
Via WinP.cn