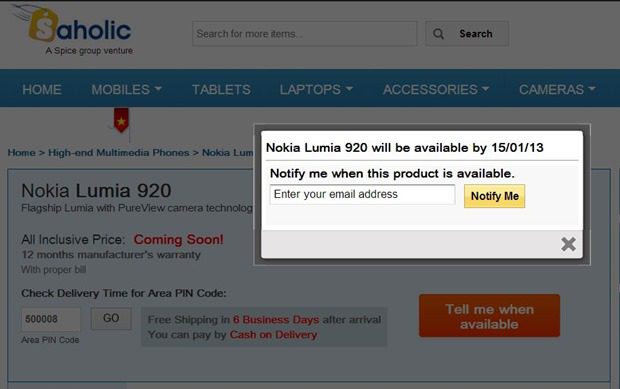 Regular reader Shaik has been doing his best to get his hands on a Nokia Lumia 920 in India as soon as possible.
He found Vodafone stores are currently taking pre-orders for the handset, with delivery promised for the 17th January.  Some websites are also accepting pre-orders with delivery promised on the 15th January.
Pre-orders are accepted for a down payment of Rs 2000 ($37) with the final price, according to Nokia representatives, rounding out to Rs 30,000 ($550).  That is around the same price or slightly cheaper than the Samsung Galaxy S3 in India, which I think is fair for a handset which offers so much more.
Have any of our readers from the Indian subcontinent put in pre-orders yet? Let us know below.
Thanks Shaik for the tip and screen shot.