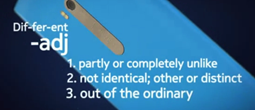 It seems Nokia's new marketing strategy is to appeal to those who do not want to be the same as everyone else (ie own an iPhone), with the new, "beautifully different" Nokia Lumia 900.
Nokia used the same theme for the Nokia Lumia 800 in what is clearly aimed to be a TV spot.
The rallying cry of course appeals as usual to the Microsoft and Nokia marketers favourite demographic, the hipsters, but at least no-one wearing a formal jacket and shorts appear in the ad, and having a different phone from everyone else does have its appeal, no matter what Scoble says, especially if its also "beautiful".
Thanks Fahd for the tip.