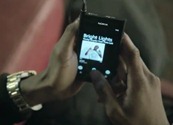 Product placement for phones have a long history in music videos, and for UK readers the latest is probably the most high profile for Windows Phone 7.
The handset, plus Nokia's Purity headphones, both showed up in  the new music video by Tinchy Stryder featuring Pixie Lott.
The handset does not get much screen time, but is still pretty recognizable.  Pity however that it is not the coloured version, but Tinchy would probably have looked less cool  with a pink phone.
Via MyNokiaBlog.com