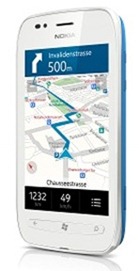 The Nokia Lumia 710 is Nokia's lower end Windows Phone 7.5 handset.  While the Lumia 800 has a OLED screen, the 710 has a TFT screen,  the 800 has 16 GB storage while the 710 has 8 GB, and while the 800 has a 8 megapixel camera with a Carl Zeiss lens, the 710 only has a 5 megapixel camera with a normal lens. Both devices however have snappy 1.4 Ghz single-core Snapdragon processors.
Despite the lower specs the handset actually feels great in the hand, with the phone feeling pretty high quality and quite thin, despite being a relatively thick handset.
The buttons do not however feel that great, needing a relatively firm press to activate.
The handset will be made available initially in black and white with black, white, cyan, fuchsia and yellow back covers, with swappable covers, and will be available first in Hong Kong, India, Russia, Singapore and Taiwan toward the end of the year alongside the Nokia Lumia 800, before becoming available in further markets in early 2012, and will only cost 270 Euro off contract.