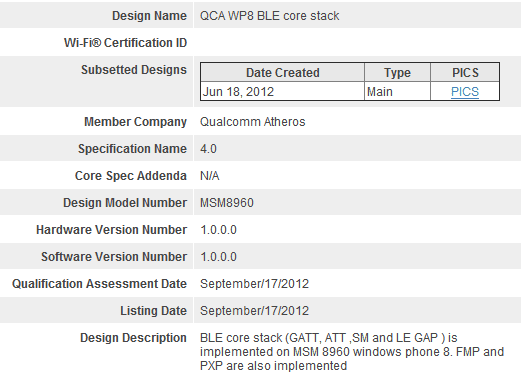 It seems Qualcomm has been sitting on a Bluetooth Stack for Windows Phone 8 for quite a while now.  The Bluetooth SIG has revealed the Nokia Lumia 625 is the first Windows Phone to support Bluetooth 4.0, with the help of Qualcomm's QCA WP8 BLE core stack.
This stack, which dates back to June 2012, supports features like the Find Me protocol, which can be used for tags such as Stick and Find which can be attached to objects and then located using a smartphone.
Hopefully Windows Phone 8 will support the protocols to enable developers to take advantage of these new hardware features.
See the protocols at the Bluetooth SIG here.
Thanks A2J for the tip.