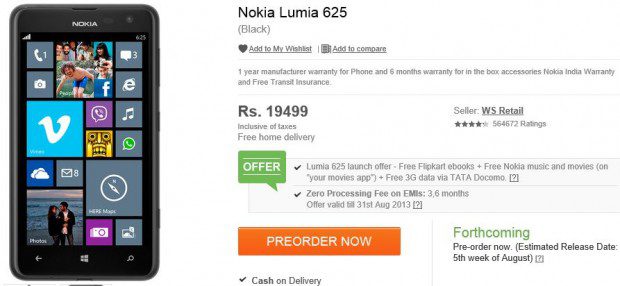 The highly anticipated Nokia Lumia 625 is now available pre-order from India's largest online retailer Flipkart. The bad news is that the price is much higher that expected. The device is currently listed for a price of Rs.19499 which is high when compared to the device of its class. Nokia's own Lumia 820 is available for almost the same price and Samsung Galaxy Grand Duos is available for Rs.18,500. The device comes with the following freebies as well.
Flipkart ebooks
11 ebooks free.  Valid for 3 months.
Nokia Music
Valid for 6 months. More than 90 lakh songs avaliable for download.
Nokia movies via "Your movies app"
Valid for 3 months. More than 3000 movies avaliable.
3G data via TATA Docomo
Free 3G data for 3 months.
Double data for 6 months.
What do you think of Nokia India's pricing strategy?
Check out the Flipkart listing here.