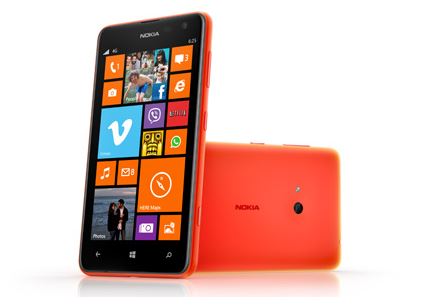 Nokia announced the largest Lumia Windows Phone 8 device Lumia 625 yesterday. The Nokia Lumia 625 is planned to begin selling in China, Europe, Asia Pacific, India, Middle East, Africa and Latin America in Q3 2013 with an estimated retail price of 220 Euros (290 USD) before taxes and subsidies. In UK, both Vodafone and EE are planning to sell this 4G equipped device to consumers.
Nicola Shenton, Head Of Devices for EE said the following about Lumia 625,
"4G  is incredibly important for the future of mobile in the UK, and EE is at the forefront. With the new  Lumia 625, Nokia is helping  to bring even more affordable, quality 4G devices  to the market which will ensure 4G experiences are available to a broader audience,
Vodafone's Director of Terminals,  Dee Kaul said the following on Lumia 625,
"The Nokia Lumia 625 will make a great and highly affordable  4G-ready addition to Vodafone's range of Windows Phones ahead of our 4G launch  later this summer. We'll be letting customers know very soon when exactly  they'll be able to get their hands on it."
Adding 4G compatibility to Lumia 625 is a great decision from Nokia and it will become a must have device for every operator around the world to have in their 4G portfolio.
Source: Trusted Reviews