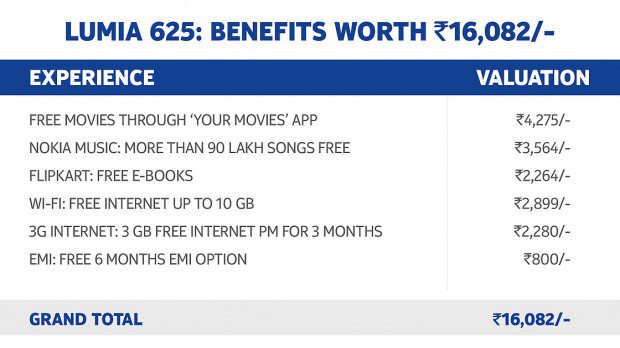 Nokia today officially announced Lumia 925 and Lumia 625 devices in India. Both the devices address different markets, while Lumia 925 is focused on high-end market, Lumia 625 is focused on mid-range smartphone market. The Nokia Lumia 925 will be available at a best buy price of INR 33499/- and the Nokia Lumia 625 will be available at a best buy price of INR 19,999/-. The devices are already available from various retailers at less price points.
Nokia Lumia 625 in India comes with an out-of-the-box entertainment package worth Rs. 16000/- absolutely free of cost. This includes movies, eBooks from Flipkart and access to the Nokia Music Store, among others.
The Lumia 625 will come pre-loaded with Your Movies,the only movie app that allows users not to just stream but also to download movies on to the device. Your Movies will initially have over 3000 movies from Hollywood, Bollywood and other regional genre .In order to facilitate easy access.
Nokia will also provide all Nokia Lumia 625 users free access to Ozone Wi-Fi zones across India at more than 800 youth hangout zones that include Café Coffee Day, McDonalds, and Subway among others. Consumers can download up to 10 GB of content in these zones at no extra cost during the first three months of purchasing the device.
Nokia Lumia 625 comes pre-loaded with the newly launched Flipkart eBooks WPPhone app. Consumers will get free titles from well-known authors like Chetan Bhagat, Shobha De, and Khushwant Singh among others.