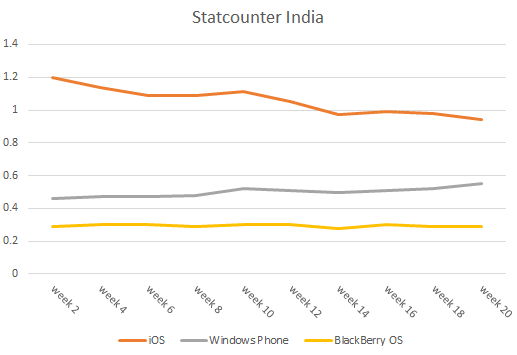 TimesDigit.com reports that the Nokia Lumia 520 is a certified hit in India, with the handset selling out at numerous online retailers in the subcontinent.
The handset is  completely out of stock at Flipkart, Snapdeal, HomeShop18, Saholic while being available only in black & cyan colours on the online Nokia store.
The smartphone is also being heavily promoted in India, and it certainly seems the market is responding.
Some evidence of this can be seen in Statcounter's mobile OS data from India, which shows steady if slow progress by Windows Phone, while Blackberry OS remains stable and it seems iOS appears to be plummeting.  Unless Apple introduces a low-end iPhone it is likely Windows Phone will overtake iOS within the year in terms of installed base, making it another of the growing list of regions where Windows Phone is ahead of the iPhone.
Thanks Wasim for the tip.