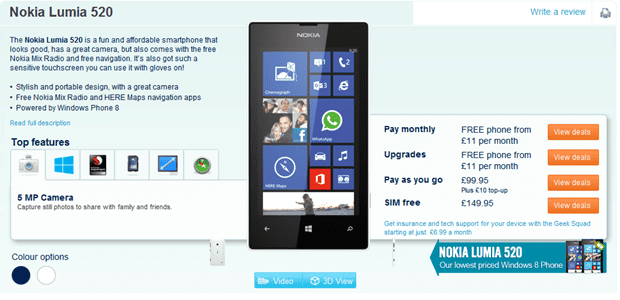 The cheapest Windows Phone handset, the Nokia Lumia 520 has now arrived at Carphone Warehouse, and is available on some stonking deals.
If you want the handset SIM-free it will set you back £149.95, but if you dont mind a 24 month contract the handset can be had for as little as £11 per month with unlimited texts and 100 Mb of data.
Otherwise the 5 megapixel 4inch WVGA dual-core handset can be had for £99.95 with a £10 top-up on Pay As You Go.
For the same price you can get a selection of Android handsets with tiny half-VGA screens and single core processors which will likely make you wait multiple seconds to complete even the simplest task.
I suspect we are about to see another big spike in adoption.
See the deal at the CarPhone Warehouse here.
Thanks Mark for the tip.