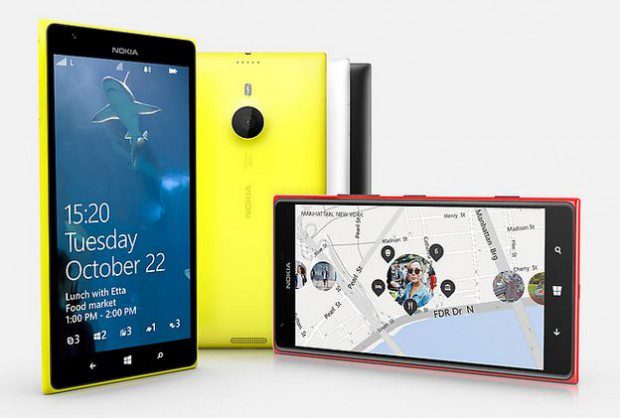 The Nokia Lumia 1520 is expected to begin selling this quarter in Hong Kong, Singapore, the United States, China and Europe (including Finland, France, Germany, and the UK), followed by other markets; and it has an estimated price of around USD 749 before local taxes and subsidies.
Specs:
Operating System: Windows Phone 8 with the latest updates
Networks: GSM/EDGE: 850, 900, 1800, 1900 MHz; WCDMA: 850, 900, 1900, 2100 MHz; ROW LTE: 1, 3, 7, 8, 20; USA LTE: 2, 4, 5, 7, 17; HSPA+: DL 42 Mbps (Cat 24) / UL 11.5 Mbps (Cat 7)
Speed: LTE 150/50 mbps, DC-HSPA 42mbps
Memory: 2GB RAM, 32 GB internal user memory; 7 GB SkyDrive cloud storage, micro SD card support up to 64GB
Display: 6-inch full HD 1080p LCD , ClearBlack, High Brightness Mode, Sunlight readability, Super sensitive touch for glove and nail usage, Gorilla Glass 2
Processor: 2.2GHz Quad Core Qualcomm Snapdragon 800
Primary camera: PureView 20-megapixel Auto Focus ZEISS optics with Optical Image Stabilization (OIS), 2x lossless zoom, oversampling technology, dual LED flash, 1080p @ 30 fps full HD video with optical image stabilization
Secondary Camera: HD 1.2-megapixel wide angle
Size & weight: 162.8 x 85.4 x 8.7mm (volumetric). Weight: 209g
Connectivity: NFC, A-GPS+GLONASS, WLAN (2.4/5Ghz) a/b/g/n/ac, ?USB, BT 4.0 LE, Accelerometer, Proximity sensor, Magnetometer, Gyroscope, Ambient Light Sensor
Battery: 3400 mAh (integrated) with built-in wireless charging (Qi compatible)
Audio: Rich Recording with four microphones; Wideband Voice and multi-microphone noise reduction with four microphones; Dolby(R) Headphone, Graphic equalizer, Audio leveling; FM radio
Check detailed specs after the break.
Dimensions

Height: 162.8 mm
Width: 85.4 mm
Thickness2: 8.7 mm
Weight: 209 g

Display and User Interface

Display size: 6 "
Display resolution: Full HD (1920 x 1080)
Display features: Brightness control, Orientation sensor, High brightness mode, Refresh rate 60 Hz, Corning® Gorilla® Glass 2, Easy to clean, Nokia Glance screen, Lumia Color profile, Wide viewing angle, Sunlight readability enhancements
Display colors: TrueColor (24-bit/16M)
Aspect ratio: 16:9
Pixel density: 368 ppi
Display technology: ClearBlack, IPS LCD
Touch screen technology: Super sensitive touch
Sensors: Ambient light sensor, Accelerometer, Gyroscope, Proximity sensor, Magnetometer

Keys and Input Methods

User Input: Touch
Operating keys: Volume keys, Camera key, Power/Lock key

Form factor

Form factor: Monoblock touch
Hardware

Connectivity

SIM card type: Nano SIM
Charging connectors: Micro-USB
AV connectors: 3.5 mm audio connector
System connectors: Micro-USB-B
USB: USB 2.0
Bluetooth: Bluetooth 4.0
Bluetooth profiles: Object Push profile (OPP) 1.1, Hands-free profile (HFP) 1.5, Advanced Audio Distribution Profile (A2DP) 1.2, Audio/Video Remote Control Profile (AVRCP) 1.4, Phone Book Access Profile (PBAP) 1.1, General Audio/Video Distribution Profile (GAVDP) 1.2
Wi-Fi: WLAN IEEE 802.11 a/b/g/n/ac
Wi-Fi security modes: WPA2 (AES/TKIP), WPA, WPA-Personal, WEP, WPA2-Personal, WPA-Enterprise, WPA2-Enterprise, PEAP-MSCHAPv2, EAP-SIM, EAP-AKA
NFC: Secure NFC for payment, Sharing, Pairing, Tagging
Other wireless connectivity: Wi-Fi Channel bonding

Data Network

LTE network bands3: 1, 3, 7, 8, 20
LTE max data speed DL: 150 Mbps
LTE max data speed UL: 50 Mbps
WCDMA network: 850 MHz, 900 MHz, 1900 MHz, 2100 MHz
WCDMA max data speed DL: HSDPA – 42.2 Mbps
WCDMA max data speed UL: HSUPA – 5.76 Mbps
GSM network: 850 MHz, 900 MHz, 1800 MHz, 1900 MHz
GSM max data speed DL: EGPRS 236.8 kbps
GSM max data speed UL: EGPRS 236.8 kbps

Power Management4

Battery model: BV-4BW
Battery capacity: 3400 mAh
Battery voltage: 3.8 V
Removable battery: No
Maximum standby time: 32 days
Maximum talk time (2G): 27.4 h
Maximum talk time (3G): 25.1 h
Maximum music playback time: 124 h
Maximum video playback time: 10.8 h
Maximum Wi-Fi network browsing time: 13.6 h

Processor

Processor name: Qualcomm Snapdragon™ 800
Processor type: Quad-core 2.2 GHz

Memory

User data storage: In device, Memory card, SkyDrive cloud storage
RAM: 2 GB
Mass memory: 32 GB
Expandable memory card type: MicroSD
Maximum memory card size: 64 GB
Free cloud storage: 7 GB
Software and applications

Productivity features

Personal information management features: Calculator, Clock, Calendar, Phonebook, Alarm clock, Reminders, To-do list, Social networks in Phonebook, OneNote, Wallet, Family Room, Kid's Corner
Business apps: Adobe acrobat reader free download, Lync (Corporate IM) free download, SkyDrive storage for documents and notes, Company Hub for enterprise applications, Office apps: Excel, Word, Powerpoint, OneNote
Document formats supported: Excel, PDF, Word, OneNote, Powerpoint
Sync type: Exchange ActiveSync, Windows companion app, Nokia Photo Transfer for Mac
Sync content: Calendar, Video, Pictures, Music, Contacts

Other Applications

Game features: DirectX 11, Touch UI, XBox-Live Hub

Software platform & User Interface

SW Platform: Windows Phone
Software release: Windows Phone 8 with Lumia Black
Communications

Email and Messaging5

Email clients: Yahoo! Mail, Outlook Mobile, Gmail, Office 365, Nokia Mail, Windows Live / Hotmail / Outlook.com, MS Exchange Active Sync
Email protocols: SMTP, IMAP4, POP3
Email features: Viewing and editing of email attachments, Always up to date, Multiple simultaneous email accounts, Text-to-speech message reader, Email attachments, Conversational view on email, Linking multiple inboxes to one, Inbox filtering, HTML viewer
Supported instant messaging services: Google Talk, Twitter, Windows Live Messenger, WhatsApp, Yahoo! Messenger, Skype IM, Facebook
Messaging features: Integrated text messaging and chat, Instant messaging, Concatenated SMS for long messages, Multiple SMS deletion, List of recently used numbers, Audio messaging, Text-to-speech message reader, Text messaging, Number screening for messaging, Unified MMS/SMS editor, Automatic resizing of images for MMS, Distribution lists for messaging, Multimedia messaging, Conversational chat style SMS, Unified inbox for SMS and MMS

Call management

Call management features: Voice commands, Call waiting, Voice mail, Integrated hands-free speakers, Call forwarding, Call logs: dialled, received and missed, Call history, Voice dial, Conference call, Skype voice call
Video call features: Skype video call
Supported amount of phonebooks: One integrated phonebook
Supports amount of contacts: Unlimited
Ringtones: Downloadable ringtones, MP3 ringtones
Noise cancellation: Multimicrophone uplink noise cancellation
Speech codecs: AMR-WB, GSM FR, AMR-NB, GSM HR, EFR, GSM EFR
Device security

Security

Enterprise security features: Remote security policy enforcement
General Security features: Remote device locking via Internet, Secure NFC, Track and Protect via internet, Firmware update, Remote wipe of user data via Internet, Device lock, Device passcode, PIN code, Firmware and OS integrity check, Secure device start-up, Online back-up and restore, Application sandboxing and integrity check
Advance security features: Lost device tracking, Browser integrated anti-phishing
Data encryption: User data encryption for device
Sharing and Internet

Browsing and Internet

Internet browser capabilities: Internet Explorer 10
Social apps: Facebook, LinkedIn, Twitter
Photo sharing: Share over Bluetooth, Facebook, Tap and share images or videos with NFC, Picasa, Flickr, Send as email attachment, SkyDrive, Nokia Beamer
Video sharing: Video sharing with NFC, YouTube, Flickr, Picasa, Video sharing to social network and internet, Facebook, SkyDrive, Joyn video call sharing
Location sharing: WP location sharing, Foursquare
Wi-Fi hotspot: Up to 8 Wi-Fi-enabled devices
Nokia Beamer: Nokia Beamer lets you share your screen with family, colleagues and friends by simply pointing your Nokia Lumia at any screen displaying the web address http://beam.nokia.com. Or share your live Lumia screen by sending a link by email, sms or social networks.
Navigation

GPS and navigation6

Location and navigation apps: HERE Maps, HERE Drive+
Navigation features: Public transportation routing guidance, Free maps, Automatic day/night view switching, Offline maps, Speed limit warnings, LiveSight, Download the latest maps with Wi-Fi, Free turn-by-turn walk navigation, Free global voice guided turn-by-turn drive navigation
Location technologies: Magnetometer, A-GPS, Cellular and Wi-Fi network positioning, A-GLONASS

Location and navigation apps

HERE Maps: Discover the best places in any neighbourhood with HERE Maps. New LiveSight technology reveals interesting places in your display. Explore malls, stations and more with venue maps. Access your favourite places on any HERE app and on here.com.
HERE Drive+: Navigate safely with global free turn-by-turn navigation and true offline support. HERE Drive+ features audible speed limit warnings, dedicated dashboard and commute assistance. Save and access favourite places on any HERE app and on here.com.
HERE Transit: Get around by bus, train and subway all in one easy-to-use app. Compare route options, arrival and departure times and walking distances in over 700 cities and 50 countries. Over-the-air updates ensure you always have the latest routes and schedules.
Photography

Main camera

Main camera sensor: 20 MP, PureView
Main camera focus type: Auto focus with two-stage capture key
Zeiss Optics: Yes
Sensor size: 1/2.5 inch
Main camera f-number/aperture: f/2.4
Camera focal length: 26 mm
Camera minimum focus range: 10 cm
Camera image formats: JPEG/Exif
Flash type: Dual LED flash
Flash operating range: 3.0 m
Flash modes: Off, Automatic, On

Main camera features

Main camera – other features: Optical image stabilization, PureView, Backside-illuminated image sensor, 6-lens optics, High resolution zoom 2x
Digital camera add-ons: Cinemagraph lens, Bing vision, PhotoBeamer, Creative Studio, Nokia Camera

Photography apps

Nokia Camera7: Nokia Camera brings together the features from Nokia Pro Cam and Nokia Smart Cam modes into one application. It gives you the whole exclusive Nokia camera experience with fast access to editing and sharing.
Creative Studio: Get more out of your pictures with this quick and easy photo editor. Creative Studio's editing tools let you quickly adjust color balance, remove red eye and apply filters. Then, share your pictures directly on Facebook and Twitter.
Cinemagraph: A magical blend of photo and movie-like animation, creating pictures that seem almost alive. Helpful on-screen assistance lets you select the animated area of your picture and easily create and edit a cinemagraph. You can share your cinemagraph with friends via social media, email and messaging.
Panorama: Get the bigger picture with Nokia's easy-to-use Panorama app. Simply take your pictures and the app automatically stitches them into a picture-perfect view. Once you're done, share your panorama directly to Twitter and Facebook.
Nokia Storyteller: Nokia Storyteller organizes your photos into stories on an interactive HERE map by time and place. Cinemagraphs and smart photos play automatically. See points of interest around the photos taken and pull up contact info, call or email directly from Storyteller, enabling you to authentically re-experience your entire journey when the time comes.

Image capturing

Capture modes: Video, Still
Scene modes: Automatic, Sports, Night
White balance modes: Cloudy, Incandescent, Fluorescent, Daylight, Automatic
Light sensitivity: Automatic, ISO 100, ISO 200, ISO 400, ISO 800, ISO 1600, ISO 3200, ISO 4000
Photos viewed by: Camera Roll, Month, Timeline, Photo editor, Favorites, Album, Photos from social networks, Nokia Storyteller

Secondary camera

Secondary camera resolution: 1280 x 960 pixels
Secondary camera f-number/aperture: f/2.4
Secondary camera – other features: HD 1.2 MP wide angle, Video recording, Still image capture, Video call
Music and Audio

Music

Music apps: Nokia Music, Mix Radio, Xbox Music
DRM support: PlayReady
Audio features: Album graphics display in Music player, Audio Streaming, Dolby® Headphone, Music Player, Cloud music offline playback, Media Player, Graphical equalizer, Podcasts, Cloud music playback

Music apps

Nokia Music: Unlimited streaming of music for free with Nokia Music. Discover great new music wherever you go. Create your own artist inspired mix or enjoy the mixes from our music experts and celebrity friends. You can listen to your favourite mixes offline and discover live music around you with Nokia Music Gig Finder.

Music format

Codecs: MP3, AMR-NB, WMA 10 Pro, GSM FR, WMA 9, AAC LC, AAC+/HEAAC, eAAC+/HEAACv2
Audio playback file formats: ASF, MP4, AAC, AMR, MP3, M4A, WMA, 3GP, 3G2

Radio

Radio features: Internet Radio, FM Radio

Voice and audio recording

Recording: Voice recording in MMS, Voice recording in OneNote
Audio recording file formats: AMR
Audio recording codecs: AMR-NB, GSM FR, AAC LC
Audio recording features: Nokia Rich Recording with four microphones
Video

Main video camera

Camera video resolution: 1080p (Full HD, 1920 x 1080)
Camera video frame rate: 30 fps
Camera video zoom: 3 x
Video playback frame rate: 30 fps
Video playback codecs: VC-1, Windows video, H.264/AVC, H.263, MPEG-4
Video playback file formats: MP4, WMV, AVI, 3GP, 3G2, M4V, MOV
Video recording formats: MP4/H.264
Video white balance modes: Cloudy, Fluorescent, Incandescent, Automatic, Daylight

Main video camera features

Video streaming: YouTube browsing and video streaming, Progressive video download, Streaming from video services and internet, Nokia Video Upload app
Video recording features: Stereo Audio Recording, Video light, Video zoom, Optical image stabilization, Continuous autofocus, Nokia Video Trimmer app, Nokia Rich Recording with four microphones

Secondary video camera

Secondary video camera resolution: 720p (HD, 1280 x 720)
Secondary camera video recording format: MP4/H.264
Environment

Environmental features

Materials8: Contains recycled plastics, Free of PVC, Contains recycled metals, Free of nickel on the product surface, Free of BFR, rFR as in Nokia Substance List
Energy efficiency: Automatic screen brightness adjustment, Battery saver feature, Energy efficient charger
Eco content and services: Available at Store, HERE Drive: route optimization, HERE Maps: pedestrian navigation
Recycling: 100% recoverable as materials and energy
User guide: Small printed guide, full on nokia.com, In-device user guide
Packaging: Made of renewable materials, Minimized package, Packaging is 100 % recyclable, Virgin wood fibres up to 100% certified, Containing up to 80% recycled materials
Accessibility

Accessibility features

Hearing: Vibrating alerts, TTY support, Video call, BT neckloop compatible
Vision: Screen reader compatible, Voice recognition, Vibrating alerts, Zoom, Voice commands, Font magnification, High contrast mode, Customizable home screen
Physical skills: Speakerphone, Voice recognition, Voice commands, Customizable home screen
What's in the box

Box

Sales Package: Nokia Lumia 1520, Nokia AC-60 MicroUSB Charger, Nokia Charging and Data Cable CA-190CD, Nokia Headset WH-208, Quick guide, SIM Door Key