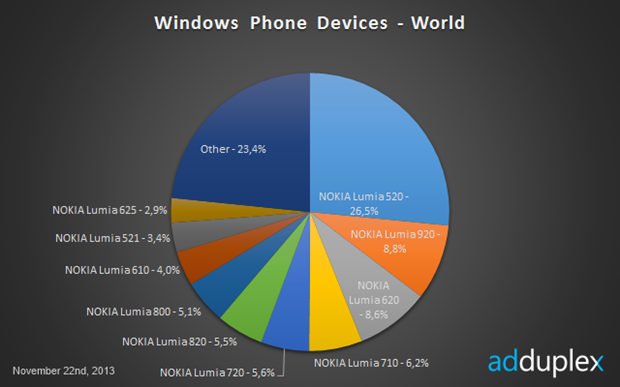 The latest AdDuplex data for November is now available and surprisingly shows that Nokia's greatest camera phone yet, the Nokia Lumia 1020, has not gained traction even amongst the Windows Phone community.
The handset has less than 2.9% of the  Windows Phone market share, being pegged below the new Nokia Lumia 625, and is unfortunately another sign that the Windows Phone market is heavily weighed towards the low end.
Of course there could be other reasons for the device's poor performance.  I suspect top of the list is that the handset is a transitional device – it was released very close to the new generation of quadcore 1080P handsets, but still sported a dual-core 720P screen.  As such the sophisticated buyer saw a major compromise – buy a great camera with old generation 2012 hardware, or wait for the next generation of Windows Phones in 2014 with better specs.
I suspect high end buyers are a lot more informed that Nokia and Microsoft expects, and will not be fobbed off with a poor compromise.
Do our readers agree? Let us know below.