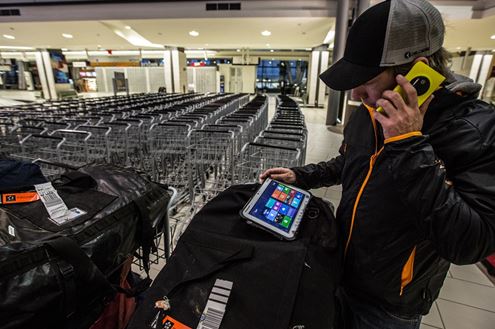 Eric Larsen and his 3-person team of adventurers are starting their adventure journey tomorrow to break the current expedition speed record that was set in 2006 by a Norwegian team to cover the nearly 500-mile distance to the North Pole in less than 49 days. Eric will be documenting his entire journey and will also be providing daily updates, podcasts, photos and videos. Microsoft is one of the sponsors for this attempt as they have provided Nokia Lumia 1020 and Nokia Lumia 1520 Windows Phone devices to him. I'm sure we will have some great photos of the arctic world throughout this journey.
Microsoft is supporting Eric's journey by providing him with Nokia Lumia 1020 and Nokia Lumia 1520 Windows Phones that he will take with him on the expedition. Using these Lumias, he'll be able to take amazing photography documenting and sharing his journey with the world. As someone who also uses a Lumia 1020, I am super excited to see the photos Eric will be taking on his trip. Eric has also been using the Nokia Lumia 2520 and Panasonic ToughPad G1 tablets to track and train for the expedition.
You can follow Eric's updates here on his website or by following him on Twitter.