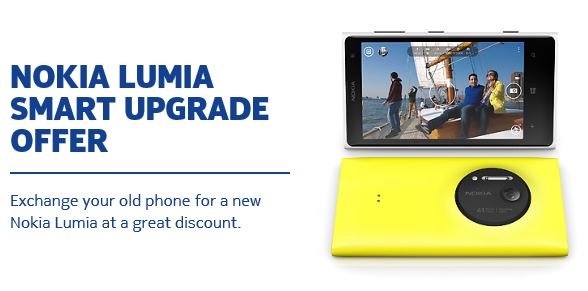 Nokia India is now running a buyback scheme for Lumia 1020. You can now exchange your old phone and get a discount of up to Rs. 13,500 on the new Nokia Lumia 1020. Here are the applicable devices.
Blackberry
Q10, Z10.

Samsung
Galasxy S1/S2/S3/S4, Note I, Note II, Glaxay Grand, Quattro, Galaxy Core.

Nokia
Nokia Lumia 625, Nokia Lumia 820, Nokia Lumia 920, Nokia Lumia 925.

Sony
Xperia Z, Xperia ZR, Xperia ZL, Xperia Z1, Xperia C, Xperia M, Xperia SP.

HTC
Butterfly, 8X, 8S, ONE.

Others
Micromax Canvas HD / 4, Apple iPhone 3G/3GS/4/4s, LG Google Nexus 4, HTC OneX / Butterfly / Desire 500, Lenovo K900.
Apart from the exchange deal, there are lots of other offers. You can download the ZoomIn app and get two 12 X 24 inch prints & four 10X8 inch prints, for free. Also get a 50% off on the massive 16X20 inch print. Also you get a free 1 year insurance from New India Assurance when you buy a new Nokia Lumia 1020. Another new offer is that it comes with Microsoft gift code worth Rs.1000 which you can use to buy apps and games.
Check out the deals here from Nokia India.