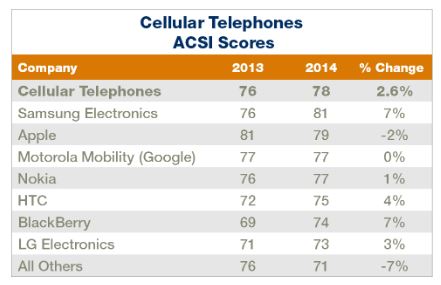 The annual Information Sector report from the American Customer Satisfaction Index (ACSI) was released today. In general, customers are more satisfied with the with telecommunication services and technologies than they were a year ago. Microsoft gained 1% to reach 75% in the list. Similarly, Nokia gained 1% in the US to reach the ACSI score of 77%. Samsung and Apple are ahead in the list as more of their customers are satisfied with their smartphones.
With the release of Windows Phone 8.1 and new high-end Lumia devices, I hope that Nokia/Microsoft can further increase customer satisfaction in their products.
See the release after the break.
Customer satisfaction with cell phones Improves for a second straight year, rising 2.6% to a new all-time high ACSI score of 78. Steady growth in the use of smartphones which have
many more capabilities than feature phones and as such tend to create higher levels of customer satisfaction helps drive the overall industry gain. The quality of smartphones
improves each year as the largest manufacturers tend to target at least one new product launch annually. Pricing remains reasonable, according to customers, especially considering
the phone discounts offered by wireless providers for signing service contracts.
Source: ACSI