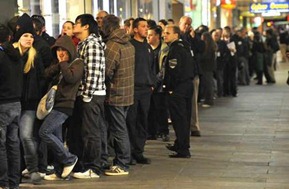 Nokia is hoping for Apple-like queues for their first Windows Phone.
Slashgear met with Nokia's new UK team who discussed the company's way forward.
They discussed the company's new corporate strategy, and told Slashgear not to expect Nokia's Windows Phone 7 handset, to be released later this year, to be leaked any time soon.
"The iron shutters are down around development – it's "Apple-style" secrecy right now" they said.
The company is rather wistfully hoping for iPhone-type hype to arise from this.
"If we can build the same hype around our first Windows Phone as Apple does about iPhone…" one told Slashgear, speaking of the block-long lines that usually accompany an iPhone launch.
While Nokia may be somewhat optimistic regarding the reception their Windows Phone handset will receive, our readers  can be sure as soon as the news does break they will be able to read about it here first.
Read more at Slashgear here.
Via MTW.