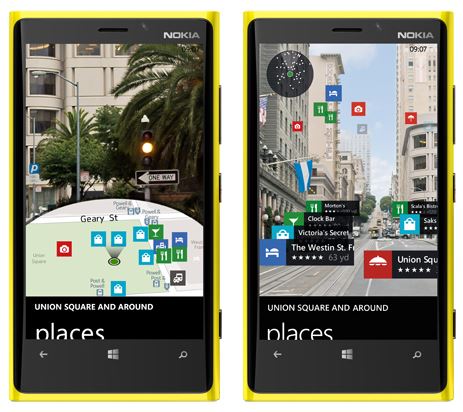 Nokia today detailed the LiveSight experience that is built into HERE Maps on Lumia Windows Phone 8 devices. This new LiveSight experience is my go to app to wow other platform mobile users whom I meet everyday. You need to try this out for sure!
If you have a latest HERE Maps update on your Lumia device, you'll also notice that there's an additional eye icon next to your current location. Tap it to start the LiveSight experience.
If you're holding the phone perfectly upright you'll see POIs dart about the screen as you start to move the phone in any direction. If one of these icons is positioned directly in the centre of your screen, you know that the venue or location is directly ahead of you.

Cleverly, by placing your finger or thumb on the middle of the screen and pulling items downwards to the bottom, you'll start to flick your way through venues that are closer or further away. The nearest icon will fade out at the bottom, leaving the most distant ones on the screen. This is really useful when looking at a cluster of icons and you're trying to establish which one you want to navigate to.

At any point, of course, you can tap on a POI and see details of its exact location, including address, the phone numbers, photos and reviews. And if you need to, pressing the directions option will guide you there.

The radar at the top of the screen lets you see the position of other places around you, too.

Within the LiveSight view once again, as you begin to lower your phone to around 45 degrees or more, the familiar HERE Map will poke into view at the bottom of your screen. While still maintaining the LiveSight view above, this mix of traditional map and LiveSight really helps you understand where you are in relation to the rest of your local surroundings.
There is a lot about this app. Read more at the source link below.
Source: Nokia