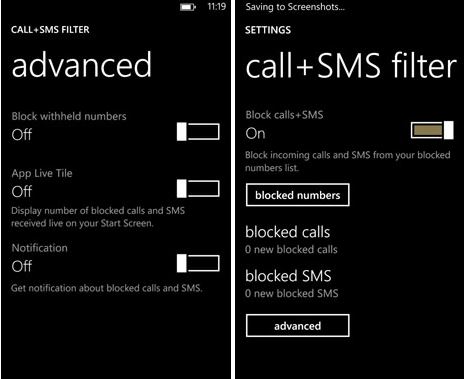 Upcoming Nokia update for Lumia devices called Amber brings in the most commonly requested feature of Call And SMS Filter to Windows Phone devices. you can now add people to a blacklist for calls and SMS messages and this feature is now part of the latest 'extras and info' app in the Windows Phone store.
Nokia today detailed this feature as below.
Find the number or person you want to block and long-tap on their entry. Choose 'block number'. The phone will ask you to confirm, and if you agree, you won't be getting any calls or text messages from that number on your Lumia from now on.

You can manage the numbers you've blocked using a new entry in the settings menu: 'call and SMS filter'. Here you can see how many calls and messages have been blocked and remove numbers from the blacklist, if you've made a mistake.

You can also switch the filter on and off – it may be that you only want to block calls during a certain period, for example.

You can also activate a Live Tile and notifications for your filter. And you can choose to automatically block calls from a 'private' number – something that is often the sign of sales call.
Source: Nokia Conversations