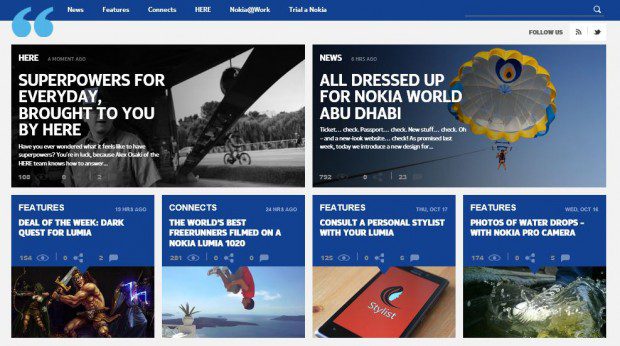 Nokia's official blog Nokia Conversations has got a new look today. The new design looks awesome with large Live Tile like looks on the home page. Nokia cited three main reasons for re-designing their official blog,
Nokia's main site has been redesigned recently, and we want to reflect its fresh, modern look (though adapt it so it's better suited for blog content). It makes sense for Nokia's different sites to look like they're all part of the same family, after all.
The current site was mainly designed for larger screens. On mobiles and tablets, it doesn't work as well (as you may have noticed). We aim to make the new version fully responsive, adapting the content dynamically to suit different screen sizes.
The blog has grown bigger in the last year as we've welcomed HERE, Nokia Gear, Nokia Connects and Nokia at Work to join the global blog. More space is needed for all the great content produced by our extended family of editors, and we think the new blog will help us with that.
Check out the link below to enjoy some neat editorials.
Source: Nokia