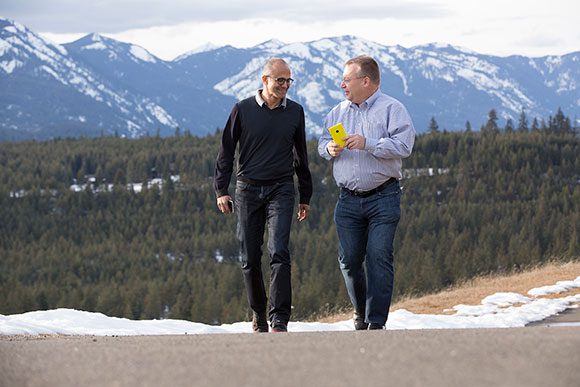 Nokia today announced that they have completed the sale of Devices And Services business To Microsoft. Read Stephen Elop's message regarding this deal below.
Today we are announcing that the acquisition of substantially all of the Nokia Devices and Services business by Microsoft has reached completion, following approval by Nokia shareholders and regulatory authorities.

Six months ago, we announced our plans to bring the best of Microsoft and Nokia Devices and Services business together. Today is an exciting day as we join the Microsoft family, and take the first, yet important, step in our long-term journey.

At our core, we are passionate about building technology that will change the world. From the early vision of Microsoft of placing a PC in every home and on every desk, to Nokia connecting billions of people through mobile devices, we have empowered generations. But we could not have achieved any of this without our fans around the world.
Continue reading the message and full press release from Microsoft after the break.
Your support has created strong momentum for Nokia Lumia smartphones and they continue to grow in popularity around the world. Last year alone, the awards, accolades and fan-generated rave reviews offered proof of the growing number of champions for our phones and tablets.
And we are committed to continuing our support for feature phones, the Asha family, and the Nokia X family of devices, announced at the Mobile World Congress in February.
Whether you want to read more, capture more, watch more, listen more or get more done, Nokia mobile devices have been and are your go-to choice.
As Microsoft and Nokia Devices and Services come together as an expanded family, we will unify our passion, dedication and commitment to bringing you the best of what our joint technologies have to offer.
Together, we can connect and empower people with one experience for everything in their life in a world where it is mobile first and cloud first.
From today onwards, the possibilities are endless. As now, we're one!
Stephen
Press Release:
REDMOND, Wash.— April 25, 2014 — Microsoft Corp. announced it has completed its acquisition of the Nokia Devices and Services business. The acquisition has been approved by Nokia shareholders and by governmental regulatory agencies around the world. The completion of the acquisition marks the first step in bringing these two organizations together as one team.
"Today we welcome the Nokia Devices and Services business to our family. The mobile capabilities and assets they bring will advance our transformation," said Microsoft CEO Satya Nadella. "Together with our partners, we remain focused on delivering innovation more rapidly in our mobile-first, cloud-first world."
Reporting to Nadella is former Nokia President and CEO Stephen Elop, who will serve as executive vice president of the Microsoft Devices Group, overseeing an expanded devices business that includes Lumia smartphones and tablets, Nokia mobile phones, Xbox hardware, Surface, Perceptive Pixel (PPI) products, and accessories. Microsoft welcomes personnel with deep industry experience in more than 130 sites across 50 countries worldwide, including several factories that design, develop, manufacture, market and sell a broad portfolio of innovative smart devices, mobile phones and services. As part of the transaction, Microsoft will honor all existing Nokia customer warranties for existing devices, beginning April 25, 2014.
Windows Phone is the fastest-growing ecosystem in the smartphone market, and its portfolio of award-winning devices continues to expand. In the fourth quarter of 2013, according to IDC, Windows Phone reinforced its position as a top three smartphone operating system and was the fastest-growing platform among the leading operating systems with 91 percent year-over-year gain.1 Furthermore, with the Nokia mobile phone business, Microsoft will target the affordable mobile devices market, a $50 billion annual opportunity,2 delivering the first mobile experience to the next billion people while introducing Microsoft services to new customers around the world.
Microsoft will continue to deliver new value and opportunity, and it will work closely with a range of hardware partners, developers, operators, distributors and retailers, providing platforms, tools, applications and services that enable them to make exceptional devices. With a deeper understanding of hardware and software working as one, the company will strengthen and grow demand for Windows devices overall.
As with any multinational agreement of this size, scale and complexity, Microsoft and Nokia have made adjustments to the deal throughout the close preparation process. As announced previously, Microsoft will not acquire the factory in Masan, South Korea, and the factory in Chennai, India, will stay with Nokia due to the tax liens on Nokia's assets in India that prevent transfer. As a result, Microsoft will welcome approximately 25,000 transferring employees from around the world.
More information about Microsoft's expanded family of devices and services is available here.
Founded in 1975, Microsoft (Nasdaq "MSFT") is the worldwide leader in software, services and solutions that help people and businesses realize their full potential.
Microsoft refers to Microsoft Corp. and its affiliates, including Microsoft Mobile Oy, a subsidiary of Microsoft. Microsoft Mobile Oy develops, manufactures and distributes Lumia, Asha and Nokia X mobile phones and other devices.