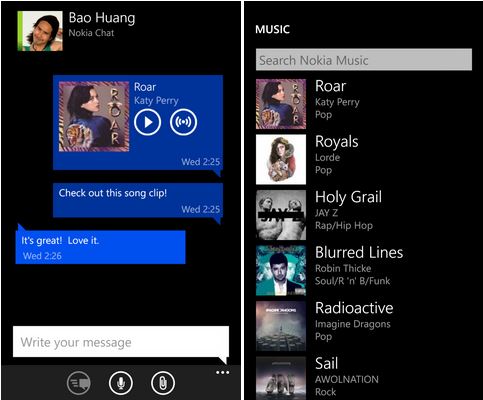 Nokia has today released an update for Nokia Chat powered by Yahoo! beta app in Beta Labs. This v1.2 app introduces support for four more languages: Vietnamese (ti?ng Vi?t), Indonesian (Bahasa Indonesia), Portuguese (Português), and Italian (Italiano).  Along with language support, Nokia has also fixed no.of issues to make your messaging experience reliable. There is new cool feature which allows you to share Nokia Music tracks via this app. Read more about it below.
Share Nokia Music clips: Have a great song stuck in your head? Share a sample with your Chat contacts! If you live in a region where Nokia Music is available, tap the attach icon during a conversation and select music. You'll see a list of top Nokia Music tracks and a search box where you can find others.

If your friend is also using Chat on a Lumia, they can play the sample you've shared directly in the app, as well as buy the entire track by tapping the album art. And if they're using a Lumia with Windows Phone 8, they can tap on the radio button to start the Nokia Music artist-inspired mix. What if your friend isn't using a Lumia? No worries! Your contact will see a link to the Nokia Music store where they can sample and see more about the song you've shared.
Download it here from Nokia Beta Labs