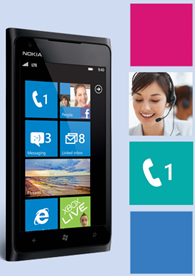 Nokia has brought its Smart Setup service, which help new Nokia Lumia buyers get started with their Windows Phones, to UK.
The Smart Setup service was first rolled out in the USA a couple of months ago, where it has been well-received and there have been some positive knock-on effects, says Matt Channing, head of Nokia UK's Customer Care.
"It has reduced any unnecessary returns into our operator channels and it has also lifted the burden on operators to help install or set up that customer. Customers have the opportunity to go home and set up the device at their leisure when they've booked an appointment with us."
The service is free, and will see assistants calling buyers and guiding them through the first steps, such as setting up their email or buying applications.
To take advantage of this, you just need to visit the Smart Setup website, book a time slot that suits you best and then someone from the Nokia Customer Care team will then call back at the appointed time.
Smart Setup is aimed at new, and even experienced, smartphone users who want to learn tips and tricks and little nuances that will help them to get the most of their Lumia device.
"Windows Phone is an intuitive operating system but it is a new one," says Matt. "Family and friends are often the first point of contact for customers to go to when they have questions. Where Windows Phone is new, we want to be that family and friend."
"There are some big misconceptions are out there and concerns from people that they cannot customise their device or personalise the ringtones. We can teach people that they can personalise their device and it also allows them to install numerous applications to do this."
"We have provided extensive training for our team. We have done numerous test calls of our own from simply playing dumb to a real 'I've never used a phone before' through to the more complex set up and functionality questions.
"I've got full confidence that we can answer 99% of the questions. There's always bound to be one curve ball but in general I have a high level of confidence in the capabilities of the team."
The Smart Setup site can be found here.