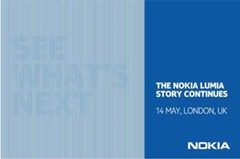 Nokia just announced via email that there will be a webcast on the 14th May.
Some weeks earlier Nokia has invited bloggers and journalists to their Lumia event in London to announce the continuation of the Lumia story. There are many rumors and leaks about the next Lumia devices which are said to be unveiled there.
First, it is said Nokia will announce the Lumia 928, a high end Windows Phone device for Verizon wireless.
Secondly, many rumors say Nokia will show the Nokia Catwalk, a high end Windows Phone with a slim profile and metal chassis.
What do you think will Nokia announce next week?