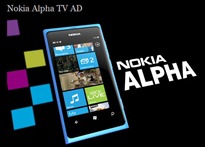 We posted earlier about Nokia's Facebook contest to give away Nokia Lumia 800's.  Interestingly enough, when they ask you to Like the page, they refer not to the Nokia Lumia 800, but to the Nokia Alpha.
From a bit of searching, it appears the Nokia Alpha was the code name Nokia used with agencies prior to revealing the real name of the handset, as can be seen in this video by an ad agency here.
Of course now we are just waiting for the Nokia Beta (or is it Gamma) of course.
Thanks Ionut for the tip.