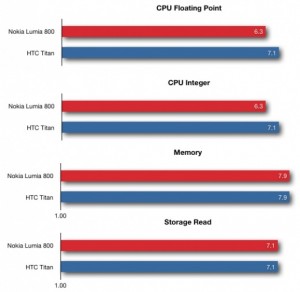 While the Nokia 800 hasn't been officially announced yet, The Next Web managed to get a source that benchmarked the upcoming Windows Phone.
When comparing the Nokia 800 to the HTC Titan, the Nokia 800 scores slightly below in the CPU tests, indicating that the Nokia 800 is using the MSM8255T Snapdragon processor running at 1.4 GHz while the Titan has the same processor clocked at 1.5 GHz.
However, in the Memory and Storage Read tests, the Nokia 800 scores are identical to the Titan, indicating that the Nokia 800 does, in fact, use NAND memory rather than a slower storage card. They also mention the Nokia 800 lacks a front-facing camera.
For full benchmark results, including web browser benchmarks (where WP7 disappointingly looses), visit The Next Web.
The Nokia 800 (SeaRay) is a rumored Windows Phone with a 3.7" AMOLED screen, and a 1.4 GHz single-core processor. It is rumored to have an 8-megapixel rear camera and 16 GB of storage. Data speeds and gyro sensor is currently unknown. It is rumored to be coming to T-Mobile Germany in November. Other release dates are unknown. Full specs…