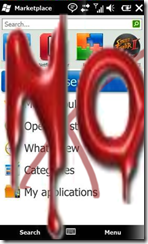 In what would appear to be a rather stupid move by Microsoft, Pocketnow claims that Microsoft will only be releasing details on Marketplace for Windows Mobile 6.0 and 6.1 at the end of they year.
They asked Microsoft:
PN: How will older devices get Marketplace for Mobile loaded onto their phones? Would there be a CAB install file available?

MS: Additional details on using Windows Marketplace from a phone running Windows Mobile 6.0 or 6.1 will be provided by the end of the year. Stay tuned.
Removing the 30 million strong user base of Windows Mobile 6.0 and 6.1 owners from the equation, at least for this year, takes away much of the incentive for developers to rush to support Marketplace for Windows Mobile. One would hope Microsoft does not expect to use Marketplace as a lever to encourage hardware upgrades by users of older devices, as i expect this strategy will fall rather flat.
Has Microsoft once again lost the plot?  Let us know in the comments.