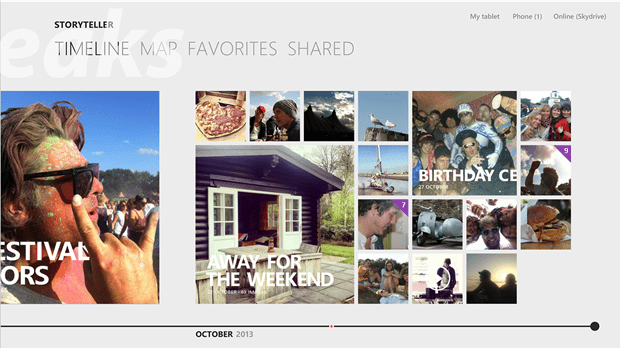 evLeaks has just leaked another of Nokia's surprises for their Nokia World Launch event on the 22nd October.
On this occasion it is an app, StoryTelller, which will have both a Windows 8 and Windows Phone version.
The app appears to be designed to make it easier to browse your collection of photos and videos, and can organize the media sorted by time, location and favourites.
Users also appear to be able to create albums e.g. Birthday and Away for the weekend, and also to share these albums.
The apps appear set to be launched along with Nokia's NL 1520, their Windows Phone 8 phablet running GDR 3 with a 6 inch 1080P screen and new Snapdragon 800 processor, and with their Windows RT tablet, the Nokia Lumia 2520, which is expected to have similar specs and will be LTE equipped.
It appears Nokia's refinement to Windows Phone via their app additions will continue in Windows RT, which I suspect will give many buyers reason to consider buying Nokia's RT tablet over Microsoft's Surface 2.
Do our readers agree? Let us know below.